Productive Leader Solution
Our proven processes deliver tangible results and measurable ROI . . . Guaranteed!
Act Now! A group for our next Productive Leader Solution Showcase in Folsom, California is forming now.
Call (916) 932-2090 or (775) 826-8282 TODAY  to reserve your seat and free consultation to devise the fastest way to increase your profits.
This Productive Leader Solution Showcase is based on the Effective Personal Productivity Program (EPP).  The Executive Showcase is
A unique and customized blend of personal coaching combined with a series of short, convenient facilitated group workshops
These workshops explore what it means to be truly productive both at work and in your personal life with detailed written & audio materials that are designed to maximize lasting results.
Many Strategic Essentials' clients begin their engagement with us through our Executive Showcase.
The Executive Showcase provides a risk-free opportunity to experience and confirm the benefits of the LMI Strategic Development Process.™ Enrollment is recommended for up to three members of your organization's leadership. From this experience you can make an informed decision about how this process can benefit your entire organization.
Satisfaction is guaranteed!
(Click here for guarantee information).
Click Here to download the program flyer for more information.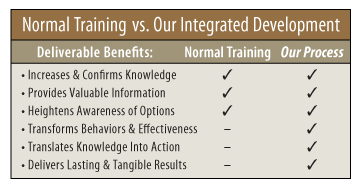 This  EPP Workshop Program Series Covers the Following Topics:
One-to-One: Personal Achiever Feedback Session (1 Hour Feedback Session)
Kick Off – Success & Motivation Presentation; Time Matrix & Leadership Challenge Workshop (3.5 Hours)
Custom Workshop:  How to Set & Achieve Goals; Charting Best Practices (3.5 Hours)
Workshop One: The Nature of Productivity (2 Hours)
Workshop Two: Goals Achievement Through Time Management (2 Hours)
Workshop Three: Increasing Productivity Through Controlling Priorities (2 Hours)
Workshop Four: Improving Productivity Through Communication (2 Hours)
Custom Workshop:  The Art & Science of Business Communication (2 Hours)
Workshop Five: Empowering the Team (2 Hours)
Workshop Six: Increasing Productivity of the Team (2 Hours)
Custom Workshop:  Final & Graduation (2 Hours)
The EPP Program Includes the Following Materials:
 Detailed Manual by Paul J. Meyer with canvas tote bag
12 Month My-Tyme Success Planner and Binder
MP3 Downloads or Audio CDs to aid your study and learning process
An Achiever Profile assessment with detailed development assessment and one-on-one feedback session
Pre-session, mid-session and post-session EDM meetings
Short weekly coaching as desired or needed
Up to 2 make up sessions
 Class Size is Limited to 15 Participants
For program details, guarantee information, your free consultation, complimentary program gift and investment, please call (916) 932-2090 or (775) 826-8282
A Few Client Testimonials from the Effective Productivity Program:
"Strategic Essentials' process supplied the needed tools and methodology to implement, significantly improved communication between departments, increased productivity with very real bottom-line results."
Jim Breslin, General Manager, Model Dairy
"I took this program twice because I felt it was so important to my success!"
Alice Heiman, President, Alice Heiman, LLC
"Found 3 hours in my day…It's unbelievable what I thought was a high priority versus what really is."
Jeff Watkins, President, Custom Aire
"I would encourage anybody who wants to improve their personal & business life to get started with this program now!"
David Spillers, President, Digiprint
"This program showed me how to increase focus and provide better delegation and training for my staff. The program result was an amazing 6:1 ROI. I look forward to future assistance that will take my organization to the next level!"
Brian Dunagan, P.E., President Dunagan Engineering, Inc. A Structural Engineering Firm